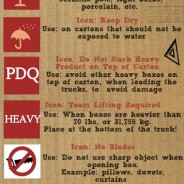 At Paul's Removals Melbourne we have given you so far quite a few tips on what to do when you are moving homes and what NOT to do. If you take a look at all our previous materials, you will notice one thing that stands out. We always advise you to use quality materials when packing for relocation. Even if you are able to pack a box that can be dropped from 1,5 metres without any harm to the items inside, it will be all to waste if the box and the materials used to seal it are of poor quality. The items will get smashed, despite all your best efforts. Don't put the horse before the carriage and invest in some quality carton boxes, bubble wrap and packing tape and only after that you can go master your packing skills. Our years of experience have shown that satisfying with the second best quality is a no-no. One way to know whether your cardboard box is good enough, is to buy boxes specifically designed for removal purposes. It sounds obvious, doesn't it? Well as much as it does we've had, a couple of times, moved various items in boxes designed for TV's, washing machines and ovens. This puts your items in greater risk of damage. Make sure the boxes are sturdy and of appropriate size. We advise you to buy smaller boxes. Filling big boxes to the brim, doesn't make your job easier, doesn't make ours and if anything, can make the box so heavy that it cracks open at the bottom. Also look for carton boxes that suit your needs – they need to have the appropriate marking and...
read more
Tags:
cardboard boxes
,
packing
,
packing boxes
,
relocation
,
removals
If you are soon to move to a new home, we can help you with transportation, heavy-lifting and useful packing tips. Many people prefer to pack their own things in order to safe money, or simply because they don't trust strangers with their belongings. ​One important thing to know about packing for relocation is that poor packing techniques are the #1 reason of broken and damaged items. Don't feel bad, because you don't know all the right techniques – not every day is a packing day for you, it is for us, though. This is one reason why our professional removalists have prepared their useful tips. #1 Do start early. The sooner the better. Having time on your hands for other important things like signing lease papers and house hunting will take a lot of pressure off your shoulders during relocation time. Start with items you rarely use and seasonal clothes you don't need right now, including items from your basement and attic. #2 Labels, checklist and wrapping paper/bubble wrap are king. No three items are as important as these when you are planning your relocation. Wrap everything securely with quality bubble wrap and label, label, label! This will help you identify contents and where you need to unload each box/plastic bag/item. It only takes a little bit of time and effort, but will save you a lot of it when you have to transport and unpack. #3 Pack your dishes using tea towels and dish cloths.  If you don't want to use towels you can use wrapping paper or bubble wrap. Use the following technique. Also packing the washing machine and other appliances require careful attention. #4 Rugs and Carpets. Some rugs and carpets might be a little bit heavier which is why it is a good idea to leave them for your removalists to roll up and load on the truck. #5 Parishable and flammable items and liquids cannot be transported at all, so keep that in mind and don't be surprised if the removalists don't load them on the truck. It is unclean and potentially dangerous and all certified companies will refuse to transport them. If you have any more questions do not hesitate to give us a call any time of the...
read more
1. Choosing the wrong removals company… Or not choosing one at all. Don't get us wrong, we know you are handy and capable to deal with things yourself, but if you are inexperienced, chances are a lot of things can get wrong at the wrong time. Paul's professional removalists have seen all kinds of relocations and we know how stress takes its toll on our clients. It is not easy to leave your home and it is not easy to deal with these emotions while you have to think about boxes, labelling, dismantling, heavy-lifting and unloading. How about you enjoy the ride to your new home, while we take care of all that? How do you know if a removals company is good enough? – they are licensed; – they provide a large variety of removal services and offer discounts on booking multiple services; – they are insured; – they have positive reviews on the net; – they are easily contacted; – they provide tailored quotes to suite your needs; – they let you help; – they work on weekends, holidays and odd hours; – no hidden charges – their terms and conditions are clear; 2. Lack of labels. Repeat after us: "there is no such thing as too many labels". Planning and labelling are essential to any relocation. We advise you to use colour dots and a variety of labels to help you distinguish your boxes and to know which box goes where. It is also important to make a note if any of your boxes contains fragile items. 3. Not thinking about the commute. When was the last time you got stuck in traffic? I am sure this dampened your mood. Make sure you avoid peak hours. You can always schedule your move on a Saturday or Sunday – we won't charge you extra for coming on a weekend. This way you won't even have to take a day off work. 4. Taking more items than you need; If it is something you haven't used in months or even years and you are never planning to use, but just take because you can't throw away, you are by yourself. Remember, just a few items make all the difference between one truck and two! 5. Over-filled boxes and suitcases. Filling your boxes and cases to the brim, makes them heavy, this will slow down the movers and if the bottoms of the boxes are not secured by cross-taping, it might just cause damage to the items inside. Read more about our packing guidelines. Image Credits: Commons...
read more
Tags:
moving tips
,
relocation tips
,
removal mistakes
,
removals
​Nowadays, not only we are bombarded with information of all kinds, but we are also swamped with goods and items, most of which we don't need. We are often encouraged to buy things that will supposedly make our lives easier, but they further complicate it instead. In an attempt to encourage you to hold on to what matters at Paul's Removals, we made a list of people who thought having too much is not worth it in the end, removed themselves from the limelight and gave their fortune away in order to have a a simple and frugal life, or to be in service of others! Charles "Chuck" Feeney Coming from a modest background and raised in New Jersey during the Great Depression, Chuck Feeney enrolled at Cornell University where "his flair for business was discovered". Together with another Cornell University alumni, Miller, Feeney started selling different goods to duty free – without tax. Not long after that, the two partners established DFS – Duty Free Shoppers, which became a global retail giant. Feeney's wealth was estimated at around $1,3 billion, but as he stated it himself he didn't want "money to consume his life". He gave away a huge chunk, 38%, of his share in DFS to a charitable organization he established, the "Atlantic Philantropies".  He always believed he earned his wealth only to be able to help people, and after all he has accomplished he still wears a $15 watch and owns neither a home, nor a car. Dave Chapelle A well-known and loved American comedian, Dave removed himself out of the limelight, turned his back on the multi-million dollar contract he had at the time, and disappeared in South Africa for a while. He moved back to the States where he now lives with his family in rural Ohio, where he ownes 65-acre farm, never to return to show business again. In his own words: "Turns out you don't need $50 million to live around these parts, just a nice smile and a kind way about you." Zell Kravinsky When the Philadelphia teacher Zell Kravinsky borrowed some money to buy a property, he probably didn't expect to end up with a property portfolio worth tens of millions of dollars. He earned a huge fortune, which would've allowed him to do whatever he wanted and move wherever he pleased, instead he slowly gave it away to health care organisations and charities and in 2003 he donated his own kidney to a complete stranger. That's selfless and brave! Syd Barrett As a founding member and a promising song-writer for Pink Floyd, Syd Barrett's removal from the show business was a shocker to all fans of the band. As reported, after he left the band in its prime, Barrett continued to write songs for some time, before he fully removed himself from the public eye, moving to Cambridge where he lived with his mother for a while and spend 30 years gardening, painting, cycling and trying to live a life as low-key as possible. Manute Bol Famous for his height (231 cm or 7 ft 7 in) and exceptionally long limbs, a lot of people know Manute was one of NBA's all time shot blockers. Some believe he killed a lion with his bare hands, but these are not even the...
read more
Tags:
frugal life
,
give away
,
simple living
Moving homes could be one of life's most important and most stressful activities and what matters the most is how you embrace the challenge. Being prepared and organized as well as retaining your sense of humour will help you relocate painlessly. Get Professional Help The first and most important thing you need, is to admit you need help. The sooner, the better, because this will allow you to start making plans, choose the right removals company and get a quote on your removal needs. Choosing the company carefully is the single most important step. You will be entrusting all your belongings and finding reliable people to handle them is essential. Things to look at for in a removals company – Whether they offer a package of services – transportation, packing/unpacking, combination of services – in-house moving/ end of lease cleaning; – Any deals? Every penny counts during a relocation and if you could save some money and benefit from a deal, don't miss the opportunity; – Flexibility. Choose a removals company you can count on – those who are available for contact 24/7 and who work on weekends and evenings without ripping you off. Be organized.  It's not for everyone, but everyone once in a while needs to show some organizational skills. Have a clear vision what goes with you and what goes to charity. Don't move something you won't need later. This can make all the difference between one truck and two trucks and it will dramatically affect your quote. Make lists and label everything. It may seem like a waste of time, but it will save your life! Repeat after me: "There is no such thing as too many labels". We will keep emphasizing on that, because some of the most hectic moves happen due to the lack of proper organization, correct packaging and...
read more
So you want your moving day to go as smoothly as possible? Don't make the following relocation mistakes.  #1  Failure to schedule your move ahead of time. Planning is essential when you are moving homes, especially if it is a long distance move. Make sure you have called a professional removals company and booked an appointment in good time. After that, make a plan of when and how you will pack all your belongings. #2 Failure to pack everything before the moving date is the second most common mistake people make. Don't underestimate the amount of items you have. They don't look that many until you open the storage under the bed and all kitchen cupboards and empty every drawer. That's when you will realize you have a lot of organizing to do. Coming to this realization a few days before your move is not something you want. #3 Packing more boxes than you need. This mistake is high on the list for a couple of reasons. Firstly, you waste more time to pack, secondly you pay for something to be moved and you are not even going to use it and thirdly you will have to unpack it and find it a new place in your new home. Moving means letting go, not just of the old place, but of old items you are unlikely to use ever again. This includes old clothes you never wear anymore and pieces of furniture you don't really need where you are going. Either way – let go already! #4 Hiring a shady mover. Not everyone who has a truck and is willing to handle your move for $50 is a professional mover. Booking a professional removals agency with reputation is essential. You can rest assured that these will be the removalists that will handle your move responsibly and will treat your personal belongings with integrity and respect. A shady mover is also one that has no insurance and is either not vetted, or not eligible to work in Australia. #5 Not labelling the boxes. This is a big one. Rarely people forget or deliberately skip to label their boxes, but even if you think you can remember what went where, this will be followed by chaos in your new home. Just label your boxes. #6 Not cleaning the place. When it comes to moving homes, people are often worried more about surviving the move and not so much about the consequences of it and precisely how are they going to get their bond back. Don't make this mistake. Think about the apartment you are living in and get it cleaned before your landlord's final check up. Not only we offer quality removal services, but we also offer move out cleaners that will take care of your end of lease cleaning on a discount.  So, hopefully, when you manage to avoid these mistakes, you will know you've done your relocation right. One more mistake to avoid is to stress too much over...
read more
I know it may seem crazy, but while most people are looking for large spacious apartments and bathrooms they can play baseball in, some people actually, voluntarily choose to design their own tiny homes on wheels. Take the example of Andrew and Gabriella Morrisson who built their tiny home for 4 months and it cost them around $22,000. That's probably less than your car, right? When you are moving to a relatively small space, you need to plan every move of yours. If you have watched the entire video, you have probably noticed that everything in it was there with a purpose and placed strategically. First of all, always plan carefully every furniture you take. According to our professional movers the less furniture you move in with, the better. If you are going for a small living, it is good to consider multifunctional furniture. You know those desks that become dining tables? That's the stuff I am talking about. There are many ways to use these in a manner that will save you space, money and will allow you to use it efficiently. Another thing to do is paint wisely! We know that you may want a red bedroom, with a yellow ceiling (who would want something like this?), but you need to think about the fact that certain colours, make large rooms look smaller and cosier and vice versa. There are colours that make a smaller room look more spacious – white, light blue and yellow are some of those colours. All this is called colour psychology and is worth your attention. Go for white and breezy blue. To make a small space look bigger use mirrors, or better yet windows! When you furnish your home, choose mirrors and place them at all the right spots. For instance a ceiling over the living room sofa, is a great idea. It adds depth to a room. If the view allows it go for a window – even better! You can make a small bedroom appear larger, by just placing a mirror on the wardrobe door. And besides who doesn't need a mirror near their wardrobe. It is useful for so many reasons. Lastly keep it neat and tidy, as clean and clear spaces look more spacious. Everyday you will have to put away things and find a place for everything you have and get rid of things you don't use and definitely don't need. If you are a clutter bug I am afraid you won't make it.You will have to let go of stuff. What a house like this allows you to do? Move everywhere you want, go to the places you've always dreamed of visiting. Here you can find more about the lives of people who live on the...
read more
How To Successfully Buy Or Rent a Home If you are a first-timer it is worth knowing that when you buy your first house, your life will change for better or for worse. That being said making an informed decision is crucial and the success depends on whether you've done your homework. Here is what you'll need. First take a glimpse at the entire property procedure in the form of a mindmap. Use your mouse to navigate and "+" button to enlarge. This is what you'll need to do from selling your current home to moving to your new one. Step 1: Planning Needless to say you won't achieve anything unless you plan realistically. – Know what you want. Do you want a house, or a flat, two rooms, or three? Have a basic idea. Your real-estate agent will be able to find something that suits your lifestyle much quicker if he/she knows what you want. Here is to help you make up your mind. – Set a budget; Knowing what you can afford is the next important thing, if not more important than knowing what you want. Compare mortgages. Finding the loan that is right for you takes time and research. Don't rush this step. keep in mind you also need to include removal services charges. – Choose an area. Based on where you work, or where you want your kids to go to school, pick an area that is convenient.  If you are in doubt between living in the country, or living in town, here is an infographic to help you sort it out. Source: Visual.ly – Go on house-hunting trips. Browsing over the Internet is one thing, going there in person a totally different. You can use the trip to get a feeling of the area. Drive, or walk around your future neighbourhood. If you meet someone friendly ask them about life there. Get a map and mark all supermarkets, pharmacies, dry cleaners and everything you need to have around. Is it there, good! Relocations are tough. Now you may think that will be the last thing on your mind, but you don't want to move into your new house, only to find out you need to run to the pharmacy, or the supermarket and not knowing where these are. Where to Find Your Property? – The Internet (obviously); – Magazines and Newspapers; – You can buy privately; – You can buy at an auction; – You can buy a repossessed property; – You can build your own home; Step 2: Practical Tips: – Think "location, location, location". Location is crucial in every aspect, even if you are planning to sale the house in the next 5-10 years. Especially if you are. Choose a reputable district, or a house with prestigious schools, hospitals, or other interesting sights nearby. Properties located in areas with strong economies will be hot on the real estate market long time. – Newer homes tend to sell faster than older homes, and the most expensive house is not always the best house, unless it has something that really distinguishes it. Get a good idea of the real estate market before making a purchase or getting a mortgage. Investing in a home is like every other investment. If you are smart you can...
read more
Have you ever wondered what does it take to travel the world? Yeah, I mean full-time travelling for a minimum of 1 year? You, your significant other and the open road? It all requires careful preparation, planning and a lot of guts! The majority of people think that it is easy to become a full-time traveller, but what they don't fully realize is the fact that in order to become one you need to quit your job and leave the comfort of having regular pay checks and money flowing in your bank account every month. It may even require selling your home and reducing all your possessions to a backpack, or a suitcase that fits at the back of your vehicle or RV. We as professionals in house removal and relocation know how difficult a separation with your home and belongings could be. Full-time travelling doesn't sound so easy anymore, now does it? On the positive side, you have all the freedom you need and all the time in the world to go wherever you want and do whatever you want. Thousands of people work remotely while driving somewhere between Italy and France. Heck, even children are raised in the mean time. As you will see from the infographic below, around 49% of all travellers questioned had kids at the time of their...
read more
Some people embrace change, other people fear it, but according to a source I read recently, those who embrace it are more likely to become  successful. If you get the feeling that I am encouraging you to embrace your relocation, this is exactly what I'm doing. The way you handle it, your attitude and your time management skills will be crucial to the success of the "mission". So without further adieu, here are some basics to start with. #1. One of the first and most important things to do is talk to your landlord 9 to 6 months prior to your relocation and share your plans to move. Commercial buildings, offices, shops and restaurants are not like moving an apartment. Sometimes you will need more than a month's notice. Make sure you file for business change of address. #2 New office hunting. Prepare a list of pro's and con's and compare your options based on location, rent, taxes and condition #3 Make removal arrangements and hire a company. Get estimates, compare quotes and ask for discounts and additional services that you might require – storage solutions, waste clearance, move out cleaning, builders, etc. These are all things you may need. #4 Brace yourself and arm yourself with patience. No panic. Don't let yourself go!  Get help and support from your employees.  You can divide them in teams so on moving day everyone will be responsible for something. Involve them, but allow no heavy lifting. This is what we are for and if you give us a call at: 03 8566 7514 we will navigate you through our list of services and...
read more
Tags:
office move
,
office relocation
,
office removal planning
,
office removals
,
removal services